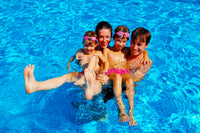 Fast & Effective
✔ Powerful blend of poly aluminium chloride based flocculants
✔ Far superior to cheap aluminium sulphate
✔ Removes tiny particles, colloids, colour, turbidity & suspended solids
✔ Removes associated pollutants
✔ Removes 100% cryptosporidium oocysts
✔ Fast acting in 4-6 hrs
✔ Keeps working for 7 days
Safe & Easy-to-use
✔ Simply add water and ready to use
✔ Completely safe drinking-water grade 
✔ No aluminium halide or sulphate build-up
✔ Works over a wide pH range 5-8
✔ Can use pool whilst working
✔ Can keep filter running
✔ For prevention, maintenance or cure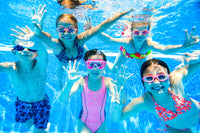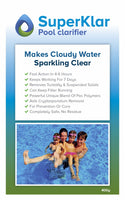 What is SuperKlar?
SuperKlar is an innovative new water treatment chemical that coagulates and flocculates tiny suspended solids that are not stopped by a sand filter.   
SuperKlar works in 2 process steps -  coagulation and flocculation, in order to create larger solid particles that settle so can be removed by vacuuming and/or the sand filter.
SuperKlar is supplied as a powder that you just mix 10% with water prior to use so you don't have to waste money to pay to ship the water. One 400g pack makes 4 litres of concentrated solution.
The Coagulation Treatment Process
SuperKlar consists of a polynuclear complex of polymerised hydro-aluminium ions which fully dissolve in water to make species of electrically positively charged cations. 
These cations neutralise the negatively charged forces that keep the microscopic particles responsible for turbidity and colour in suspension.  This allows them to form solid particles, a process called coagulation.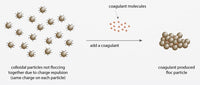 The Flocculation Treatment Process
The long-chain aluminium polymer adds weight and glues these solid particles together to form larger heavy particles that settle onto the floor of the swimming pool or get trapped by the sand filter.  This process is called flocculation.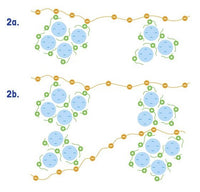 Need a Pool Shock treatment to clean your pool?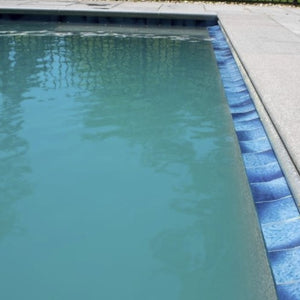 Cloudy Pool Treatment
Add SuperKlar clarifier, mix in and leave to settle overnight.  Vacuum the settled flocs to waste. Apply a second dose to polish the pool water to a sparkle for the next 7 days.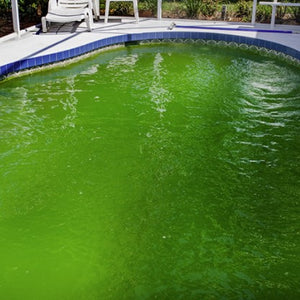 Green Algae Pool Treatment? - No Problem
Treat with algacide first then add SuperKlar clarifier to remove green colour.  Mix in, leave to settle overnight and then vacuum the settled flocs to waste.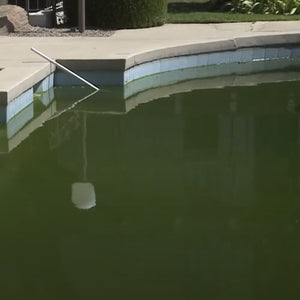 Dirty, Stagnant Pool Treatment
Check pH, add SuperKlar clarifier, mix in and allow to settle overnight.  Vacuum the flocs to waste.  Apply a second dose to provide a 7-day polish for a sparkling clear pool.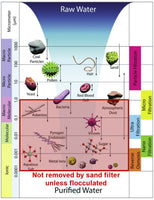 Why Do Sand Filters Alone Not Work?
Even the best sand filters are only capable of particle removal down to 0.45 microns and for just 90% of the filtrate.  Most pollution from bathers is smaller than this and will easily pass through.  This colloidal pollution then builds-up to cause high combined chlorine levels, pool odour and poor clarity. 
SuperKlar makes these particles join together into bigger flocs that the filter is able to remove. This is why a maintenance dose is essential to keeping your pool sparkling clear. 
Why is SuperKlar Safer & Better Than Aluminium Sulphate?
The PAC based polymers that SuperKlar uses are a relatively new concept but 100% safe and highly effective, which cheap aluminium sulphate is not.  They are in fact now used for treating drinking water in most countries and SuperKlar is of the same safe grade.   
These polymers have numerous advantages over aluminium sulphate coagulants:
1. High basicity - One molecule can absorb many ions so only a tiny fraction of aluminium is used which avoids its build-up in the pool and the production of toxic halogenic compounds.
2. Long polymer chains - Which form stronger, heavier flocs and more quickly.
3.No sulphide formation - The dissolved sulphates from aluminium suphate remain in solution and can build-up in the pool over time to form sulphides which give bad unpleasant smells. 
4. Work over a wider pH range - of 5 to 8 meaning they don't stop working if the pH is not correct. 
5. Safe to eyes & to ingest - Aluminium sulphate is harmful to both.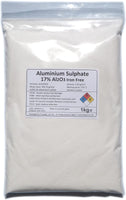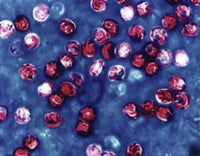 What About Cryptosporidium Oocyst removal?
The British Water Group has stated that effective flocculation filtration is the single most important step in ensuring quick and effective removal of the highly dangerous and resistant cryptosporidium oocysts from a pool. 
This raises the removal rates in a properly functioning sand filter from a typical <10% to above 95% in a single pass meaning a 100% removal within 24 hours for a typical 4-times per day pool recirculation rate.  SuperKlar fulfills this requirement perfectly.
Can SuperKlar be used for Spas and Hot Tubs?
Absolutely! - And prevent hot tub folliculitis (pseudomonas) due to bacterial build-up. Spas and hot tubs can have a much higher pollution load from skin cells, lotions, cosmetics etc and algae, compared to a swimming pool. The higher temperature (perfect for bacterial growth) and smaller water volume exacerbate the problem. 

For prevention and to keep super clean apply a small dose every 3-4 days.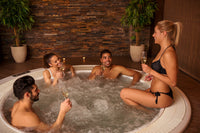 I have used many pool clearing chemicals over the years but SuperKlar is the best by far.

Tom Anderson, June 2020
I can't believe how sparkling clear SuperKlar made my pool - and great value too!

Claire Woodbridge, Aug 2020
Awesome stuff - SuperKlar works like magic.

Jason Cummins, Sept 2020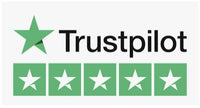 Reviews

In our first 6 months of trading we have gained a lot of happy customers, many of whom are reordering. We have now started to collect reviews on TrustPilot .